[ad_1]

The sun shone and the conversation flowed at the Asset Finance Connect UK Conference, held in London on 9 June. Over 400 senior executives heard presentations from a broad range of international speakers from the auto, equipment and asset finance sectors, and made the most of the opportunity to meet face-to-face to network and problem solve. The day concluded with the FinTech Innovator Showcase, which saw five finalists pitch for an industry innovation accolade.
The focus for the conference, for which Alfa Systems was the headline sponsor, was on ESG, with sessions examining the "triple bottom line": people, planet and purposes. Key themes were how to support customers on their sustainability journey; new consumer duty requirements; and the role of intermediaries in an increasingly digital world.
Keynote speakers at the event were two experts in making change happen. Matthias Grossmann, CEO Commercial Finance, Siemens Financial Services, outlined the opportunities for the asset finance sector to develop products which create efficiencies in resource usage for customers, and open up new business models for lenders. Tony Whitehorn, former Hyundai Motor Europe CEO and now a consultant, dissected the latest developments in the auto finance ecosystem, forecasting the emergence of the truly connected car operating a frictionless payments system from the driver's seat.
For both, the internet of things (IOT) is a critical driver in providing the data to monitor asset performance, optimise utilisation and open the way for second and third life use cases, creating longer term revenue streams for OEMs and funders.
Giacomo Carelli, CEO FCA Bank, warned delegates that "if we all continue to compete, then it's the customers and the planet who pay". His vision for an infrastructure of services hubs and mobility centres, shared between brands, was echoed by experience in the US, with Eva Kellershof, client partner NETSOL, predicting the rise of the "mobility orchestrators".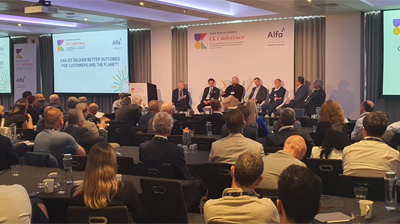 Stream sessions
In three stream sessions, delegates had the opportunity to examine critical issues facing their sector. With the car supply chain under severe pressure, agency models are coming to the fore. David Betteley, leader of the auto finance community of professionals, led a lively discussion about the future role of the dealership and the shift to online buying. Panel participants included Chris Kirby, CEO Tomorrow's Journey; Neil Smith, former operations director at Cazoo; Amar Rana, CEO CrediCar; Mark Robinson, founder Vantage Motor Group; James Brearley, director JRB Automotive; and Tony Whitehorn.
The second stream, led by John Rees, equipment finance professionals' community head, offered expert insight into the challenge of measuring Scope 3 emissions, which represent by far the largest source of emissions for most auto and equipment finance businesses. The panel explored how lenders and OEMs can support customers in their journey towards more sustainable operations. Members included Michiel Kranenborg, manager group finance and reporting for DLL; Rene Kim, founding partner Steward Redqueen; and Karima Haji, director of transformation at Scania UK;
In the third stream Steve Bassett, community head for UK asset finance professionals, alongside co-chair Christian Roelofs and an expert panel took an in-depth look at the future for brokers given changes in technology, regulation and competiton. Panellists included Jim Higginbotham, Group
CEO, Star Asset Finance; Steve Dexter, sales director Clear Business Finance; Neil Davies, CEO Commercial, Close Brothers; and Katrin Herrling, CEO Funding Xchange.
There were further specialist sessions, including one led by Nathan Mollett, head of asset finance at United Trust Bank, which examined the war for talent and the expectations of young professionals coming into the asset finance sector, many of whom are firmly committed to finding a job with purpose at its heart. Florence Roussel-Pollet joined John Rees in a discussion on the emergence of the purpose-led asset finance business, alongside Rene Kim; Simply COO Ylva Oertengren; and Jeff Lezinski, SVP solution architecture at Odessa.
Stephen Bassett led a session updating delegates on moves to create an industry-wide database as one of several initiatives designed to tackle fraud within the asset finance industry. He was joined by Nick Leader, CEO Acquis; Steve Budd, CEO Investec Asset Finance; and Robert Keep, managing director Amicus Asset Finance.
Regulation
With the Financial Conduct Authority expected to release new consumer duty regulations next month, putting consumer duty centre stage, the afternoon opened with a rapid-fire briefing on the latest developments in regulation and compliance led by specialist from Auxillias. Adrian Dally, FLA director of motor finance and strategy; Paul Parkinson, CEO Synergy Car Leasing; and Toby Poston, BVRLA director of corporate affairs, then join Auxillias' director Simon Brown in thrashing out what the new guidance will mean for the sector, and offering tips for firms to prepare for the changes.
FinTech Innovator Showcase
The afternoon concluded with Asset Finance Connect's very own version of a "Dragon's Den" innovation showcase. Five r leading fintechs selected from over 50 nominations were given the opportunity to pitch their company's proposition to the audience and answer questions from a specialist panel. The three judges were led by Steve Taplin, managing director of HPD Lendscape, alongside equipment finance expert Ylva Oertengren, the COO of Simply, and Christian Roelofs, CEO Finativ.
The five finalists were:
LECTURA: a clean data specialist developing a new digital standard for equipment taxonomy and pricing/residual values for seamless end-to-end financing journeys and improved risk management

Swoop: a SME-focused platform which helps businesses secure finance across debt, equity, and grants, and helps them make savings on everyday business costs

Moneyhub: an open banking fintech dedicated to providing clarity and control for people and businesses to make more informed decisions, and offering business the opportunity to get closer to their customers through explicit consent-driven data.

Nivo: a specialist, secure, digital communication that connects lenders, brokers, partners and customers designed to eliminate wasted time and effort, creating experiences customers and staff love for their ease and convenience.

LendingMetrics: a multi-award-winning financial technology and data specialist. Its Auto Decision Platform (ADP) leads the way in assisted decisioning in the financial services sector, allowing lending approvals to be made in seconds rather than days.
And the winner, polling the highest number of votes from the panel and also the delegates, was Nivo.
Partnership
A common theme running throughout the day's presentations was the need for the industry to collaborate with partners to address the growing ESG and other economic challenges.
Edward Peck, founder Asset Finance Connect, said: "We were delighted to see so many senior industry people at our second post-pandemic F2F conference, and their enthusiasm for the discussions throughout the day shows how our delegates value the opportunity to meet, hear the latest expert opinions and predictions, and share their own insights. We are also very grateful, as always, to our sponsors for their support. We look forward to building on this year's conference with more events to come in 2022."
Asset Finance Connect was sponsored by Alfa (headline sponsor); NETSOL Technologies (gold sponsor); Odessa (silver sponsor); Solifi (silver sponsor); Sopra Banking Software (silver sponsor); Bynx (registration and refreshment sponsor); HPD Lendscape (FinTech innovator sponsor); Acquis (sponsor); and Teamwill (sponsor).
Looking ahead, Asset Finance Connect's programme offers further opportunities to meet key industry players in two more events later in 2022:
AFC Summer Awards, on 13 July at the Hurlingham Club, Fulham, London
AFC Winter Conference, 3 November, London
[ad_2]

Source link