[ad_1]

The shift is underlined by the two leaders at this election – Scott Morrison and Anthony Albanese – both being drawn from the ranks of political and parliamentary staff.
"This vocational trend towards the professionalisation of politics has accelerated markedly over the last three decades," the report says.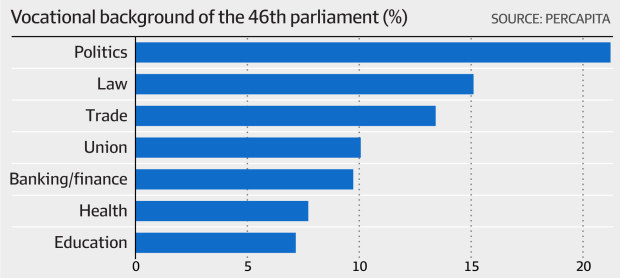 'Vocation in itself'
"This strongly suggests that politics has become a vocation in itself, rather than a public service undertaken by people with experience in different walks of life choosing to represent their local communities in Canberra.
"Whether this trend is disrupted by the significant number of independent, community-based candidates running at the 2022 election remains to be seen."
The report is a sequel to Per Capita's study of the 45th parliament, which was released ahead of the last election in 2019. Information is compiled on all 226 MPs (150 MPs, 76 senators) across four categories: demographic background, schooling, tertiary education and career experience.
The most notable fall involved lawyers, who slipped from 19.9 per cent of MPs in the 45th parliament to 15 per cent (or 45 to 33). In the 45th, 27.4 per cent of Coalition MPs and 18.9 per cent of Labor MPs were lawyers. Now it is 15 per cent for both.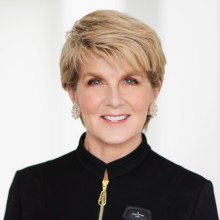 "We lost a lot of lawyers in the last parliament, particularly from the Liberal Party. People like Malcolm Turnbull and Julie Bishop had successful careers before coming into politics," said report author Emma Dawson.
The party split shows the banking/corporate sector (18 per cent) has even taken over from the law as the second-biggest source for Coalition MPs after politics (23 per cent).
For Labor, there are still more MPs drawn from unions (25 per cent) than politics (24 per cent). Lawyers are next on 15 per cent, down from 18.9 per cent.
The 2019 report said 38.9 per cent of MPs came from a political background, but Ms Dawson said there had been a change in methodology from the 2019 report. This time Per Capita counted only those for whom it could be considered their main profession, and on that measure their numbers grew. Trades was a new category, with most lumped in with small business or unions in 2019.
Ms Dawson said it was still a diverse group: "It is interesting to note that only 25 per cent of Labor parliamentarians have a trade union background, and many of those started work 'on the shop floor'.
"Similarly, while the Liberal party is closely associated with corporate Australia, just 18 per cent of Liberal parliamentarians come from the banking/finance/corporate sector."
The report said the 46th parliament "represented somewhat of a generational shift, with the ratio of Baby Boomers to Gen X". The number of Boomers (born 1946-1964) fell from 93 to 66, while the Gen X (1965 to 1980) rose from 115 to 131. Gen Y (1981-1996) also rose, from 18 to 30.
There were also more women (up from 33.2 per cent to 37.9 per cent) and more Indigenous Australians (up from 2.2 per cent to 3.2 per cent, which exceeds the population share of 2.8 per cent). It helped that Senator Jacqui Lambie is now listed as identifying as Indigenous.
The MPs were also more educated. Those with qualifications (diploma of above) rose by almost 9 per cent to 60 per cent from the 45th to the 46th parliaments. More MPs had a master's degree or above (up 4 per cent to 26 per cent). Those with no degree or diploma fell from 20 per cent to 14 per cent.
The report said: "The Nationals were the most likely party to have received a high school certificate (21 per cent), diploma (13 per cent) or undergraduate degree (40 per cent) and no members held any postgraduate qualification.
"At the other end of the scale, the Greens were most likely to have a PhD (20 per cent) while the Liberals were most likely to hold a master's degree (34 per cent).
[ad_2]

Source link