NEW DELHI: Delhi Development Authority, which proudly calls itself the 9th builder of the city after the historical empire builders, is not in the
pink
of financial health.
According to sources, the country's largest land development agency depends on loans from the central government even to pay salaries to its staff. Its chairman, lieutenant governor VK Saxena, has now sought suggestions from people to make DDA viable.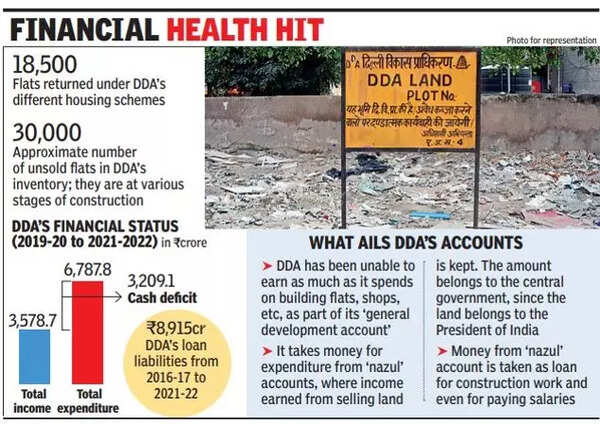 Saxena tweeted on Thursday: "While DDA are owners of one of costliest & largest chunk of real estate in the world, mismanagement has led to its liabilities exceeding Rs 10k Cr. Let's resolve to make DDA viable. Your suggestions & participation will make it happen. #ForABetterDelhi."
Saxena also shared an infographic on DDA's financial health, according to which the agency has accumulated a loan liability of Rs 8,915 crore between 2016-17 and 2021-22. Apart from this, it also has a cash deficit of over Rs. 3,209 crore.
According to sources, the primary reason for DDA's woes is its unsold inventory of 30,000 flats. It has been unable to recover the substantial investment it made in constructing these flats, which have failed to find buyers in various housing schemes.
According to sources, DDA has been using the money earned from acquiring, developing and disposing of large tracts of land for its other expenditure. However, the money earned through these transactions goes directly to the central government since the land belongs to the President of India, sources said. The Nazul transactions, in fact, go back a century to Delhi's first Nazul Office in 1922.
Sources said that DDA's earnings from selling flats, shops and land are considerably lower than its spending on these. For instance, in 2017-18, DDA's receipts in the general development account was Rs 683.6 crore, while its payments were Rs. 2,507.5 crore. In the following financial year, while its receipts rose to Rs 1,276.8 crore, the payments were still more than double at Rs 2,675 crore.
"Since the amount deposited in the Nazul accounts belongs to the central government, DDA has to avail of it as a loan and pay interest on it," an official said. "The number of unsold flats in DDA's inventory, including those in various stages of construction, is more than 30,000. The number of flats offered in previous housing schemes and returned by allottees is more than 18,500." The official added that the lion's share of DDA's unsold inventory lay in the Narela sub-city, which is still a ghost town despite many measures taken by the agency.