[ad_1]

Kevin Carmichael: It's possible the country's labour market is hitting its limits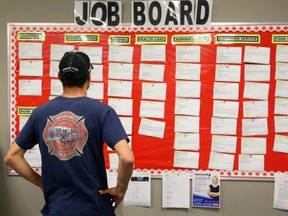 Article content
Canada's jobless rate dropped to 5.2 per cent, a modern low that all but guarantees another outsized increase in interest rates when policymakers at the Bank of Canada end their next round of deliberations on June 1.
Article content
Statistics Canada's latest monthly survey of the labour market didn't turn up stunning results like it has over the previous few months. Employment was little changed in April, as absences related to illness and disability appeared to offset employers' desire to hire to keep up with strong demand for goods and services. Hours worked declined 1.9 per cent from March, although the new level still was 1.3 per cent more than on the eve of the pandemic in February 2020.
It's possible the country's labour market is hitting its limits after adding more than 400,000 workers over February and March, an unsustainable pace at this stage of the recovery from the COVID-19 recession. The employment rate, which measures the percentage of the population that is employed, was unchanged at 61.9 per cent, the same as early 2020. There still are an unusually high number of job vacancies, suggesting the pool of available labour is running thin.
Article content
"These are the signs of a mature labour market where most of the post-pandemic adjustment has already happened," Charles St-Arnaud, chief economist at Alberta Central, said in a research note.
In April, Statistics Canada's household survey implied that employers added 15,300 positions, a statistically insignificant change because it was smaller than the poll's margin of error. The unemployment rate for workers aged 25 to 54 dropped to 4.3 per cent, the lowest since comparable data became available in 1976.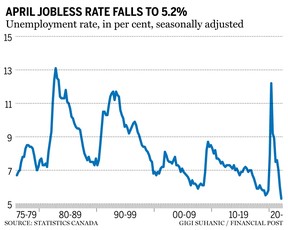 "Multiple indicators point to a shrinking labour pool and an overheated market without much room to further expand," said Tu Nguyen, an economist at RSM Canada LLP, an accounting firm. "The tightening job market adds pressure for the Bank of Canada to further raise interest rates, which will likely reach two per cent by the end of the summer, a much faster pace than previously anticipated."
Article content
The Bank of Canada last month concluded that demand had overshot supply, contributing to the fastest inflation in more than three decades. The central bank raised its benchmark rate a half-point in April, and governor Tiff Macklem has hinted he and his deputies will likely do so again in June. The policy rate is currently one per cent, compared with 0.25 per cent at the start of the year.
Statistics Canada data show average hourly wages increased 3.3 per cent from April 2021, strong by recent historical standards, but still well short of inflation, as the consumer price index surged almost seven per cent over the same period. That could herald further pay increases, because workers could begin to demand compensation for a higher cost of living. Average hourly wages in the hotel and restaurant industry surged six per cent from April 2021, compared with a year-over-year increase of 1.4 per cent in March, suggesting the headline figure could be masking a shift in pay dynamics.
Article content
"Total wages have grown at a moderate pace, but not nearly as fast as a tight labour market would suggest," said Veronica Clark, an economist at Citigroup Capital Markets Inc. "There are some signs, however, that wages are starting to pick up," she added, citing the accommodation and food services industry.  "This sector is likely facing the most difficulty hiring workers with employment levels still remaining well below pre-pandemic."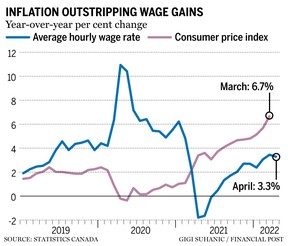 The labour market is tight, but not yet tight enough to significantly drop the number of long-term unemployed. Some 224,000 people had been unemployed for more than 27 weeks in April, compared with about 180,000 at the start of the pandemic. That's a concern because research shows that the longer people spend on the sidelines of the economy, the harder it becomes for them to find decent jobs. Long-term unemployment has accounted for about 20 per cent of total unemployment since January, up from 15.6 per cent in February 2020.
Article content
Royce Mendes, head of macro strategy at Desjardins Group, flagged a drop in employment in goods-producing industries as another red flag. The sideways nature of the headline numbers "might be an early indication that rate hikes are creating more pain for the Canadian economy than they are south of the border in the U.S.," where employers added some 428,000 positions last month, leaving the unemployment rate unchanged at 3.6 per cent.
Still, that won't stop the Bank of Canada from raising borrowing costs, since it forecasts inflation accelerating well ahead of its two-per-cent target into next year. Macklem has repeatedly said in recent weeks that he's prepared to lift the benchmark rate above three per cent if that's what it takes to relieve price pressures.
"The economy is still by most measures overheating," Mendes said in a note.
• Email: kcarmichael@postmedia.com | Twitter: carmichaelkevin


[ad_2]

Source link