[ad_1]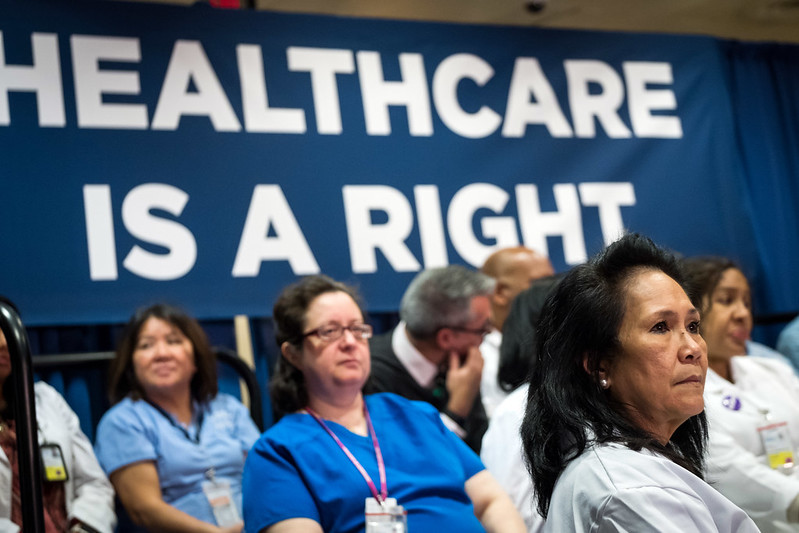 "Healthcare is a right" (photo: Ed Reed/Mayoral Photography Office)
---
The fact is, New York's profit-driven health-care system continues to fail marginalized communities like those we represent in the State Legislature. As a matter of racial and gender justice, we must finally pass single-payer health care this state legislative session.
Before we were elected to office, we each worked in or around New York's health-care system – Assemblymember Reyes as an oncology nurse, Assemblymember Forrest as a maternal-child health nurse, and Assemblymember González-Rojas as a reproductive healthcare advocate.
Through our work and our own lived experiences as Afro-Latina, Black, and Latina women, we've seen firsthand how our health-care system reproduces racial and gender inequities in our beloved New York.
Our city and state are now more than two years into a pandemic that has disproportionately affected the Black, Latino, immigrant, and low-income communities we represent and brought our already broken health-care system to its knees. As representatives of districts in the Bronx, Brooklyn, and Queens, we have a mandate to fight for the health and wellbeing of the constituents who elected us, and we know that what's good for them is also good for millions of other New Yorkers. It's time that we and our colleagues in the Legislature pass, and the Governor signs, the New York Health Act. 
It's been nearly 31 years since our colleague in the Assembly, Richard Gottfried, first introduced the New York Health Act. Yes, you read that correctly – 31 years. The bill has had several iterations since then, but its core tenets remain the same: the New York Health Act would "create a universal single-payer health plan – New York Health – to provide comprehensive health coverage for all New Yorkers."
The New York Health Plan would replace existing private insurance plans for every single worker and resident and include all benefits covered by Medicare, Medicaid, Child Health Plus, and those mandated by the Affordable Care Act. With universal single-payer, New Yorkers would no longer have to rely on family members or employers, pay exorbitant monthly premiums, or forgo coverage altogether. While the plan would require the state to impose two new progressively graduated taxes, research shows that New Yorkers would still pay significantly less overall for health care under the New York Health Act than they do now. 
Decoupling health insurance coverage from employment and reducing health-care costs would have dramatic positive impacts on the Black, Latino, immigrant, women, and low-income New Yorkers we represent. We know that over the last two years, Black and Latino people have experienced higher rates of unemployment for longer periods. According to a 2021 Community Service Society of New York report, 22% percent of low-income New Yorkers who lost employment income since the first wave of COVID-19 also lost health insurance coverage. Among that 22%, over half were Latino.
We know that women and marginalized genders have disproportionately left the workforce altogether to provide childcare for their families where the state has failed to do so, losing employer coverage as a result. Undocumented New Yorkers still don't have access to Medicaid, as Coverage for All was excluded in our recent state budget. Lack of coverage, inadequate coverage, gaps in coverage, and health-care costs are some of the greatest barriers to accessing care for communities of color. The New York Health Act would all but remove those barriers.  
In addition to reducing costs for vulnerable families and ensuring every New Yorker can access comprehensive health care no matter their circumstance or status, the New York Health Act would help improve the quality of care New Yorkers receive overall. By reducing costs and leveling the coverage playing field, our safety net hospitals would no longer be overburdened by New Yorkers who have nowhere else to go. Safety net hospitals in each one of our districts, which all serve predominantly Black and Latino members of our communities, were at the frontline of the pandemic. They're also the most under-resourced, thanks to years of inequitable distribution of Medicaid funding.
Our profit-driven healthcare system has pushed New York's entire hospital system and the providers who work within it, to the brink. Without adequate funding, data show that hospital quality of care declines. This has had devastating consequences, not only for the Black New Yorkers who were twice as likely to be hospitalized with the recent Omicron variant than their white counterparts, but for all the birthing people in our communities who rely on hospitals for pregnancy and postpartum care. In the last two years, at least three Black women, one from each of the boroughs we represent, have died from preventable causes during hospital childbirth or shortly thereafter.
Single-payer, universal health care would give the nurses, midwives, home-care workers, and other health-care providers power to bargain for fairer wages and safer working conditions, and allow providers to focus on patient care, not costs. It would also allow us to define what comprehensive coverage looks like and expand the scope of reproductive and LGBTQ health care, both of which are under attack across the country.
The New York Health Act has already passed the Assembly four times. We finally have majority support for the bill in both houses of the Legislature after years of advocacy and securing a Democratic majority in the State Senate. This is the year to get it done.
We're sick and tired of having had to work with a fractured Legislature and an uncooperative Executive that stopped us from delivering reform for years while our constituents suffered. We're sick and tired of all the talk about leading on progressive causes without real progressive action. We're sick and tired of trying to tinker around the edges to reform a health-care system that is fundamentally unjust and perpetuates the same gender and racial inequities we were elected to address. We're fed up. We need the New York Health Act now. 
***
Assemblymember Jessica González-Rojas is the first Latina Assemblymember to represent Assembly District 34, which encompasses sections of Woodside, Jackson Heights, East Elmhurst, and Corona, Queens. Before running for office, she served as Executive Director of the National Latina Institute of Reproductive Health, where she fought for policies to expand access to reproductive and sexual healthcare for Latina/x communities, including in New York. 
Assemblymember Karines Reyes, R.N., represents the 87th Assembly District in the Bronx, which includes the neighborhoods of Castle Hill, Parkchester, Van Nest, and West Farms. She serves as a per diem registered nurse in oncology at Montefiore Medical Center. In 2020, she notably returned to nursing during the peak of the COVID-19 pandemic.
Assemblymember Phara Souffrant Forrest, R.N., represents the 57th Assembly District, which consists of the neighborhoods of Fort Greene and Clinton Hill as well as parts of Bed-Stuy, Prospect Heights and Crown Heights. Prior to her election, she worked as a maternal health nurse and organized tenants in the neighborhoods she now represents.
On Twitter @votejgr, @KarinesReyes87, and @phara4assembly.
***
Have an op-ed idea or submission for Gotham Gazette? Email This email address is being protected from spambots. You need JavaScript enabled to view it.


[ad_2]

Source link