[ad_1]

Chennai: Private insurers have recorded a substantial jump in life insurance claims during FY22, due to the deadly onslaught of Covid-19 second wave. Insurance companies have recorded near doubling of claims in the last fiscal (FY22) than the two previous financial years of 2019-20 and 2020-21 due to higher fatalities and it also resulted in larger payouts by insurers towards settling the claims, multiple sources in the industry said.
Hyderabad based
Shriram Life Insurance Company
(SLIC), which has a significant rural customer base, settled 53,800 claims in FY22, when compared with 25,054 and 27,184 claims in FY21 and FY20, respectively. The insurance company settled Rs 549 crore in FY22, with a claims settlement ratio of 95.8%.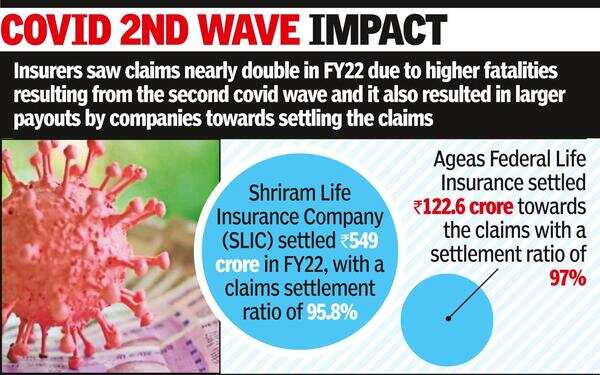 Ageas Federal Life Insurance received 2,644 life insurance claims under the individual category in FY2021-22. This was way higher than the 1,800 claims in FY21 and 1,408 in FY20. The spike in number of life insurance claims in 2021-22 was 46.8% over FY20-21 and 87.7% when compared with 2019-20. The insurer settled Rs 122.6 crore towards the claims with a settlement ratio of 97%. Leading private life insurance company Bharti AXA said it had witnessed a significant rise in the number of claims last year and attributed it largely to deaths on account of Covid-19. However, the insurer did not reveal the number of life insurance claims received for FY22, saying the claims settlement data for FY 21-22 was yet to be made public.
Nitin Aggarwal, institutional research – banking & insurance, MOFSL said in a report that ICICI Prudential Life reported total Covid-19 claims to the tune of Rs 2,100 crore in FY22, as against Rs 354 crore during FY21. "Covid-2 led to far higher number of casualties and drove higher insurance claims for the industry," he said.
SLIC MD and CEO Casparus J H Kromhout said the insurance company was able to provide financial security to families, which lost a bread winner during a very difficult phase last year. "In addition, we were also able to ensure timely disbursement of claims even in remote locations with 46% claims from the rural segment," he added. With the Delta variant strike turning deadlier than the first wave of the pandemic, it resulted in a significant spike in claims during the first half of 2021, particularly between March and May. Industry sources underscored that claim intimations have dropped since December last year after the pandemic largely came under control.
Lalitha Bhatia, chief operating officer, Ageas Federal Life Insurance said, "We are now seeing that non-Covid claims are more than Covid claims over the last four months. It is possible that non-Covid death claims may, in some cases, be related to comorbidities aggravated by Covid."


[ad_2]

Source link