[ad_1]

Going to an open house and putting in an offer isn't the only way to own a home. You can also build one from the ground up.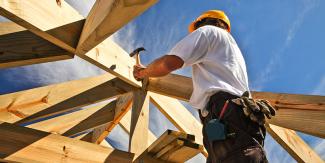 With the current low availability of existing homes on the market, building your home through a construction process is an option to own a home. In fact, many people are already going down the homebuilding path. According to the U.S. Census Bureau and the U.S. Department of Housing and Urban Development, housing starts were up 22.3% in February 2022 compared to February 2021, meaning that there was a 22.3% increase in new home construction year over year.
If you are one of the people considering building your next home, you'll most likely need to obtain a loan to help pay for the costs. Before you get started, however, you should be aware of two of the different loan options for the construction phase: a construction loan and a construction-to-permanent loan.
Construction Loan
What it is: A short-term, one-time loan that covers the costs of your home construction.
How it works: A construction loan provides temporary financing. Unlike a mortgage, on which you pay interest and principal, a construction loan only requires you to pay interest.
It's important to note, however, that the balance of your loan becomes due when your home construction is complete. At this point, you can either pay the remaining balance in cash or you can convert your loan to a standard residential mortgage.
How to find a lender: You should always shop for the loan that best fits your needs, but there are some lenders that specialize in construction loans. Regional banks and credit unions can be other good options.
Construction-to-Permanent Loan
What it is: A one-time loan that covers the costs of your home construction and then converts into a permanent mortgage when the construction phase is over.
How it works: A construction-to-permanent loan is similar in structure to a construction loan. The difference, however, is that once the construction of your home is finished, your lender will automatically convert your loan into a standard mortgage without you needing to take any extra action. This means that you will not need to worry about paying off the balance of your construction loan when your home is complete.
While your home is being built, you will pay interest payments on your loan. Once your lender converts your loan to a mortgage, you will begin making interest and principal payments each month.
How to find a lender: Because these loans are complex, try to find a lender that specializes in construction-to-permanent loans and is not new to the field. Not all lenders will offer this type of loan. Again, regional banks and credit unions can be other good options.
Be aware that construction-to-permanent loan options are often more expensive than traditional mortgages, so make sure to compare rates among different lenders before settling on this option.
Securing a Mortgage After Construction
If you had a construction-only loan when building your house and won't be able to repays the loan in full when construction is complete, you will need to convert the loan into a standard residential mortgage. You'll need to make sure you apply for this mortgage before construction is complete.
To do this, you can apply for a mortgage with the same lender who originally provided your loan, or you can choose to use a new lender. This mortgage will act as a traditional mortgage would — you will make monthly mortgage payments of principal and interest until the mortgage is paid in full.
To close out your construction loan, the process is relatively simple and follows the path of a traditional mortgage:
You provide your lender with your certificate of occupancy.
Your lender uses the mortgage proceeds to pay off the remainder of your construction loan. After this, the construction loan will no longer exist.
You begin paying your new mortgage.
Freddie Mac offers a construction conversion mortgage, which provides permanent financing to replace the temporary construction loan on your new home (whether it's site-built or manufactured). Check with your lender to see if you are eligible for this option and to determine which mortgage conversion is right for you.
Note that if you can't pay off your loan at the end of construction, you will need to pay two different sets of closing costs: one for your initial construction loan and one for the following mortgage. This can be costly, so factor these costs into your decision when determining which loan type to pursue.
For more information about buying a home, including shopping for a lender and renovating an existing home, visit My Home by FreddieMac®.
[ad_2]

Source link