Conservative voters more likely to want interest rates to drop, survey suggests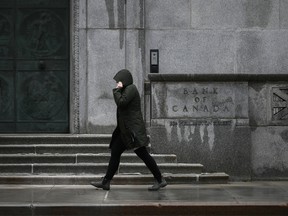 Reviews and recommendations are unbiased and products are independently selected. Postmedia may earn an affiliate commission from purchases made through links on this page.
Article content
Good morning!
Article content
A large number of Canadians want the Bank of Canada to press pause on additional interest rate increases as they fret about their finances, a new poll suggests.
Close to half of Canadians want the central bank to keep interest rates at one per cent and monitor how it's affecting inflation before making any more moves, according to a survey conducted by the Angus Reid Institute. Only 27 per cent said the bank should hike more aggressively to dampen inflation, and another 13 per cent said rates should go lower to protect the housing and stock markets from spiralling.
Meanwhile, Canadians have never been so concerned about their finances, the poll said. Just over one quarter expect to be worse off by this time next year — a seven-point increase over last year, and a 13-year record, Angus Reid said. Their wallets have also taken a hit in the past 12 months. Thirty-six per cent said they are in worse financial straits compared to last year, the highest since 2010.
Article content
People are feeling the pinch as rising inflation, which hit 6.8 per cent in April, combines with supply chain problems to boost gas and food prices to eye-watering levels. Indeed, there's been a significant rise in the number of Canadians who said it's "difficult" to put food on the table. Almost half of Canadians said it's hard to feed their families; three years ago, that number stood at 36 per cent.
As interest rates rise, Canadians are also starting to worry about the impact on their mortgage and debt payments. Almost one in five said they are extremely worried about the debt they're carrying. In turn, people are trying to stop spending so much, and said they're eating out less, cancelling streaming services, driving less and even changing their diets to save on grocery bills. That could point to headwinds ahead for the economy.
Article content
"(Canadians are) cutting back on discretionary expenditures, which of course, leads to an economy and business environment that grows more sluggish," said Shachi Kurl, president of Angus Reid, in an interview with BNN Bloomberg on Tuesday.
Fears about the housing market are adding to financial worries as well, especially as so many people have their wealth tied up in their homes. Rising interest rates have begun cooling the housing market, and the benchmark price of a home fell 6.3 per cent in April from March to $746,000, according to data from the Canadian Real Estate Association. That's making people want to keep interest rates as is, or even lower them.
"If you're in a home, if you're carrying a mortgage, you're worried abut the resale cost of the overall value of that home over the short and long term," Kurl said. "All of that (is) leading to a place where we are seeing 45 per cent of Canadians saying, 'Look, let's have the Bank of Canada wait and see a bit (and) not be too exuberant about another interest rate hike.'"
Article content
But, opinions over what the Bank of Canada should do with rates appears to be divided along political lines. Past Conservative voters are more likely to want interest rates to come down, the survey said. Seventeen per cent of Conservative party voters think interest rates should drop, compared to eight per cent of Liberal voters and nine per cent of NDP voters, a "significant" divide, Kurl said.
Those results could be indicative of what's happening in the federal Conservative leadership race at the moment, Angus Reid suggests. Leadership candidate and MP Pierre Poilievre has repeatedly criticized the central bank over the high inflation rate, and has said he'd fire governor Tiff Macklem if he becomes prime minister.
Article content
Demographics within the Conservative party could also help explain the divide, Kurl said.
"How much of that, frankly, is driven by the fact that Conservative voters tend to be demographically older men who may be more exposed to the market and more inclined to see interest rates drop because they can better absorb cost of living increases relative to lower income households, and may be more concerned about the impact on the stock or the housing markets?" she said.
_____________________________________________________________
Was this newsletter forwarded to you? Sign up here to get it delivered to your inbox.
_____________________________________________________________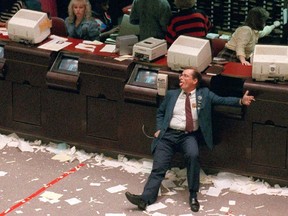 TRYING TO CATCH FALLING KNIVES Amid recent market selloffs, some investors have tried to time the market by buying the dips, a strategy investing columnist Martin Pelletier calls "more like catching a falling knife" as the S&P 500 continues to lose ground. History shows it is extremely hard to predict when a market has hit rock bottom, and previous corrections have stretched from a few months to a few years. "Instead of doubling down and catching falling knives, investors might want to take a different, more balanced approach, just in case this correction in long-duration stocks plays out like it has in the past," Pelletier writes. Read his column here.  Photo by The Canadian Press
Article content
___________________________________________________
Resources Minister Jonathan Wilkinson will be in Berlin for the G7 climate energy and environment ministers meeting
Canadian Pacific president and CEO Keith Creel will address the Wolfe Research Global Transportation & Industrials Conference in Calgary
Dorel Industries Inc. holds virtual annual meeting of shareholders
Cineplex Inc. hosts annual and special meeting of shareholders
Release of FOMC meeting minutes
Today's data: U.S. durable goods orders
Earnings: Bank of Montreal, Bank of Nova Scotia, Green Organic Dutchman Holdings Ltd., NVIDIA Corp., Snowflake Inc.
___________________________________________________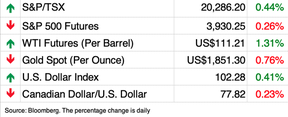 _______________________________________________________

Article content
___________________________________________________
The S&P/TSX composite index is set to outperform the S&P 500 Index, argues Noah Solomon, chief investment officer at Outcome Metric Asset.
As the chart shows below, rising oil prices have historically been a boon to the TSX, with the index outperforming in more than two-thirds of the years during which oil climbed more than 10 per cent. The market outperformed 80 per cent of the time when oil rose more than 30 per cent. High oil prices look here to stay for the foreseeable future, Solomon says, boding well for the TSX's prospects.
Article content
There are more reasons to expect a strong performance from the TSX, Solomon writes. Read his analysis here.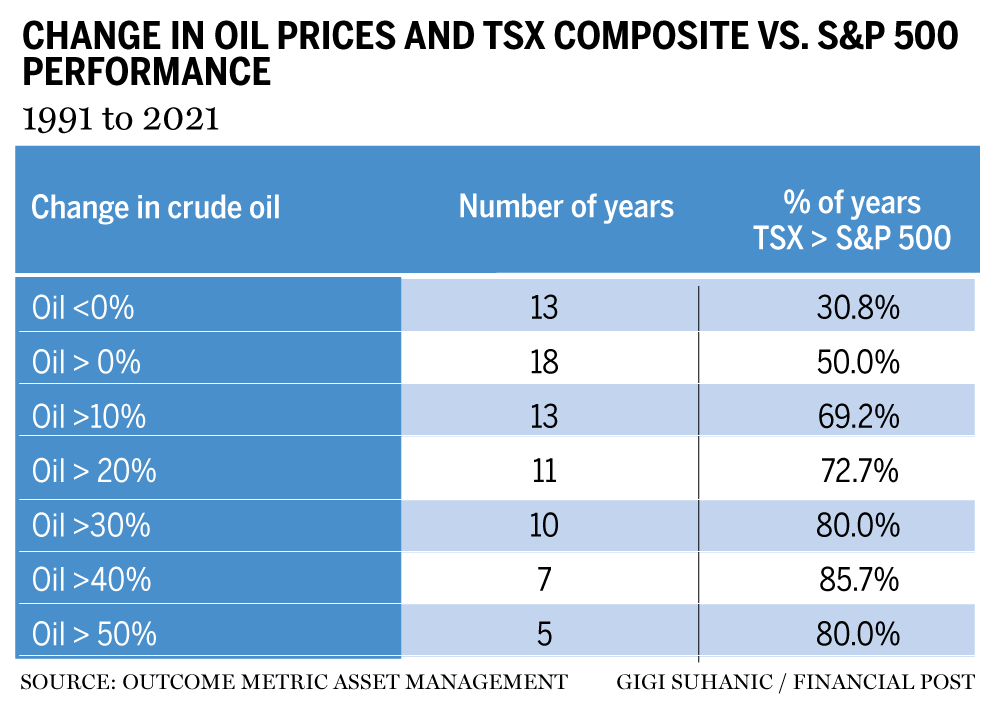 ____________________________________________________
The high cost of child care has been a burden for many new parents. Depending on where you live, the median monthly cost could be as low as $181 in Quebec City to $1,578 in Toronto, according to the 2021 federal budget.
To address high costs, the federal government struck a nationwide deal with provinces to offer $10-a-day child care by 2026. While this is something to look forward to, many parents who require child care need relief now. Barry Choi offers a few ways to save money on child care immediately via our content partner MoneyWise.
____________________________________________________
Today's Posthaste was written by Victoria Wells (@vwells80), with additional reporting from The Canadian Press, Thomson Reuters and Bloomberg.
Have a story idea, pitch, embargoed report, or a suggestion for this newsletter? Email us at posthaste@postmedia.com, or hit reply to send us a note.
Listen to Down to Business for in-depth discussions and insights into the latest in Canadian business, available wherever you get your podcasts. Check out the latest episode below: