[ad_1]

Legal claims by oil and gas investors against states imposing laws to limit fossil fuel activities could reach a total cost of $340bn for governments – more than the $321bn spent globally on public climate finance in 2020 – finds new research published in Science.
Settlement payments divert critical public finance from essential climate change mitigation and adaptation efforts to fossil fuel companies' pockets, warn the researchers from Boston University's Global Development Policy Center, Colorado State University and Queen's University in Canada.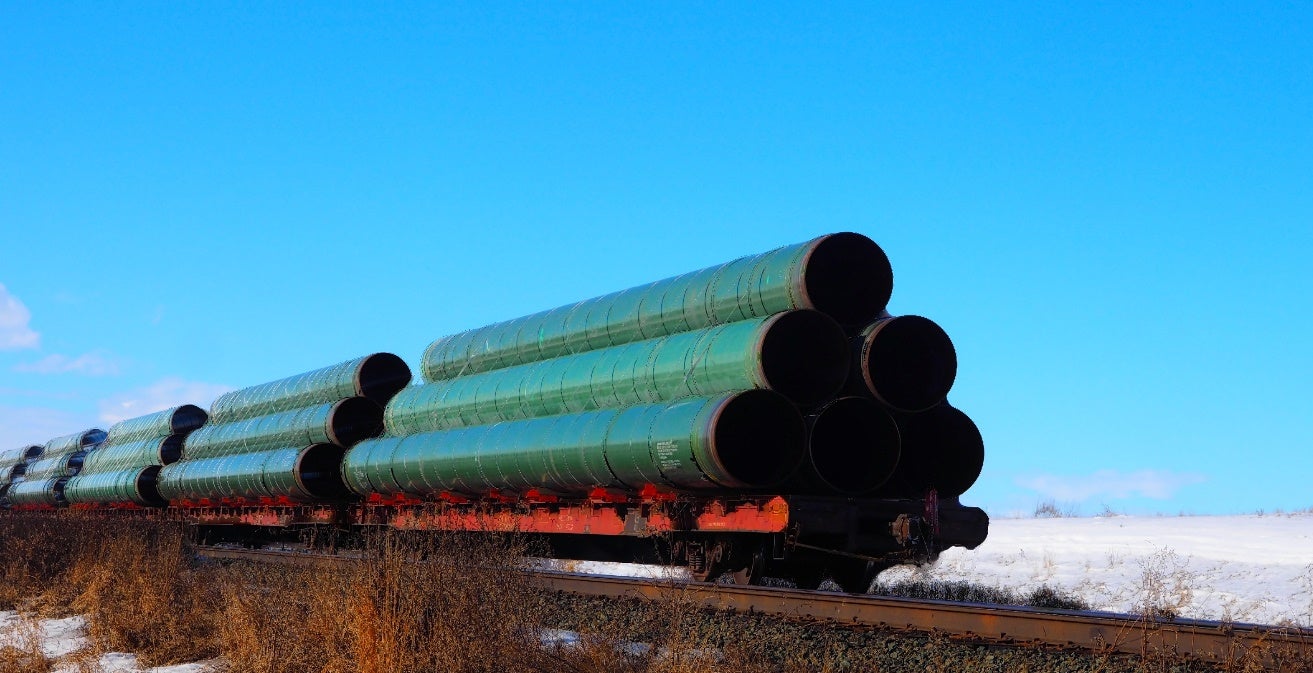 A railway flatcar loaded with large-diameter pipe destined for the Trans Mountain Pipeline in western Canada. (Photo by Bruce Raynor via Shutterstock)
International treaties protect investors, giving them leverage to succeed in investor-state dispute settlements (ISDS), says the study, published on 5 May 2022.
It names the Energy Charter Treaty as the agreement protecting the most oil and gas production and notes that its termination could reduce the global cost of oil and gas project cancellations by more than $5–20bn.
At least 231 ISDS cases – 20% of all cases – have been related to fossil fuel investments, and investors were successful 72% of the time where the final award was disclosed, highlights the study.
The research condemns the tendency for ISDS tribunals to base awards on the would-be revenue of investments across their entire life cycle and calculate compensation using discounted cash flows. The result, says the study, is hugely inflated monetary awards of up to billions of dollars that in some cases have been crippling to states because of their incapacity to pay.
If existing oil and gas development projects were blocked by their host countries, 33 governments would risk further ISDS litigation, namely Russia ($5–23bn), Mozambique ($5–19bn), Kazakhstan ($6–18bn), Guyana ($2–6bn) and Indonesia ($3–4bn).
In response to US President Joe Biden's suspension of the Keystone XL Pipeline, TC Energy, a major Canadian energy corporation, is seeking more than $15bn.
Rockhopper, a UK-based multinational oil and gas company, is seeking compensation from Italy for an undisclosed amount over its rejection of a coastal drilling permit.


[ad_2]

Source link